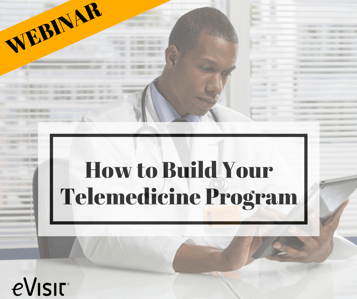 Date: December 2nd
Time: 3 PM Pacific Time
Can't make it? Sign-up and we'll send you the recording!
Interested in offering telemedicine at your practice, but not sure what's involved? Wondering what the path to a successful telemedicine program looks like? This webinar is for you.
As you probably already know, selecting the best telemedicine solution for your medical practice is just one step on the road to getting your telemedicine program up-and-running. From there, you'll need to train your staff, set-up your equipment, build your workflows, tell patients about your exciting new service…
The good news is, creating a successful telemedicine program for your practice is pretty straightforward once you know the steps to follow.
Our eVisit team has a lot of experience guiding providers through this process, from selecting your telemedicine software to launching your new telemedicine service. In this webinar, we'll walk you through the top tips and strategies that you'll need to build a successful telemedicine program.
You'll learn
Common telemedicine workflow mistakes and questions you'll need to answer
Telemedicine best practices you should implement
Suggestions on equipment set-up and technical tips to know
Strategies for marketing telemedicine to your patients