We are thrilled to report that eVisit was recognized today as one of America's fastest growing companies in 2021, ranking #2,300 on the prestigious Inc. 5000 List. This list is a selection of the most dynamic privately held firms in the U.S. and rankings reflect revenue growth rates across the past three-year period, 2017-2020.
Intuit, Zappos, Under Armour, Microsoft and Patagonia, among other prominent companies and household brand names, have gained their first national exposure as honorees on the Inc. 5000.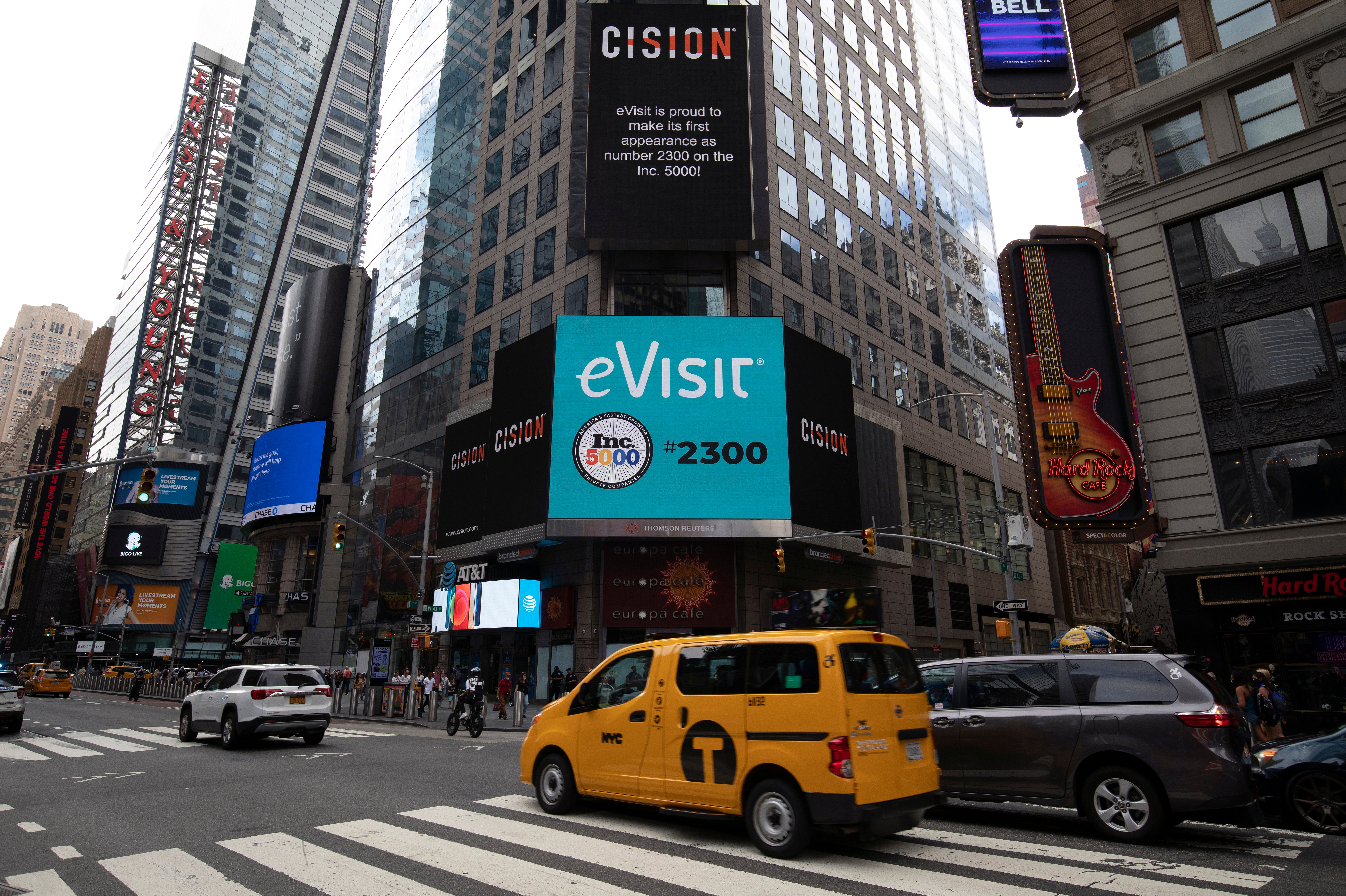 This exciting eVisit news hit the big screen billboard in Times Square too!
We are in excellent company on this 2021 List. We wanted to send a heartfelt congrats to all who made this prestigious list, especially first-timers like us and other Arizonian firms who are headquartered here in our fine state that supports and fosters start-ups. As well, thank you to our customers and partners that fueled our strong growth over the past three years!
You can see the full list here with its handy searchable features that tell you rankings by company name, industry, state, metro area and more!
Here are our stats.
eVisit ranks #2,300 overall with a revenue growth rate of 186 percent
#

306

among software firms
#

49 among the firms from Ariz. & #48 for those based in the Phoenix metro area

#5 for software firms based in the Grand Canyon State
Our Co-Founder and CEO had this to say:
"The eVisit team is honored to be named to this impressive lineup. We are on a mission to simplify healthcare delivery to everyone, everywhere. Across the past few years, we have been seeing the demand for Virtual Care skyrocketing as health systems are racing to improve their patient care offerings with our distinct end-to-end, enterprise-grade user-friendly platform.
This national recognition is a direct reflection of the hard work of our team members and our team's dedication to our customers' success – delivering virtual care operational excellence and continued innovation with our eVisit platform and Virtual Care Maturity Model™. "
There is no doubt, the pandemic ignited Virtual Care as providers rushed to put in place capabilities to safely and efficiently deliver patient care. Now, as the healthcare industry rapidly evolves to continue to incorporate remote patient care with a drive toward hybrid care models, our company is enjoying strong growth and customer success.
Building our company to become one of the fastest-growing in the U.S. has been aided by the PHE, sure, but also our executive leadership, smart decisions, big lifts and our now 120-plus team members that have truly moved mountains for our customers to continually innovate and iterated to get us here. As employee #41-ish, I have personally been a part of the fast-paced growth and it has been incredibly fulfilling.
The editor-in-chief of Inc. had this to say:
"The 2021 Inc. 5000 list feels like one of the most important rosters of companies ever compiled. Building one of the fastest-growing companies in America in any year is a remarkable achievement. Building one in the crisis we've lived through is just plain amazing. This kind of accomplishment comes with hard work, smart pivots, great leadership, and the help of a whole lot of people."
The eVisit Difference
We are different. Lots of companies say this, but we really are! Not only with our mission-oriented culture, 2050 Vision, and strong values including a devotion to customer success, but also because we employ what we call a "consultative approach" and this sets us apart too. We aren't doing the hard sell…our aim is to share a vision with our customers and to serve as a long-term Virtual Care partner well into the future. We help our customers set their Virtual Care strategy, drive toward and achieve operational excellence and meet their goals to leverage the power of Virtual Care to improve clinical workflows, reduce costs, drive revenue and enhance population health.
Focal to our approach is the proprietary eVisit Virtual Care Maturity Model, a benchmarking system and operational excellence program that helps healthcare organizations (HCOs) expand their Virtual Care programs enterprise-wide. You'll hear more about this model here soon.
We've seen significant ROI of our customer's eVisit investment. In fact, within the last year, we've seen large-scale HCO customers deploy Virtual Care across practice groups such as primary care, urgent care and mental health, quickly expand to more specialties and see a three-fold return on their investment.
Click the button below to learn more about the eVisit Virtual Care platform from our team of Virtual Care Consultants at the Inc. 5000's #2,300.