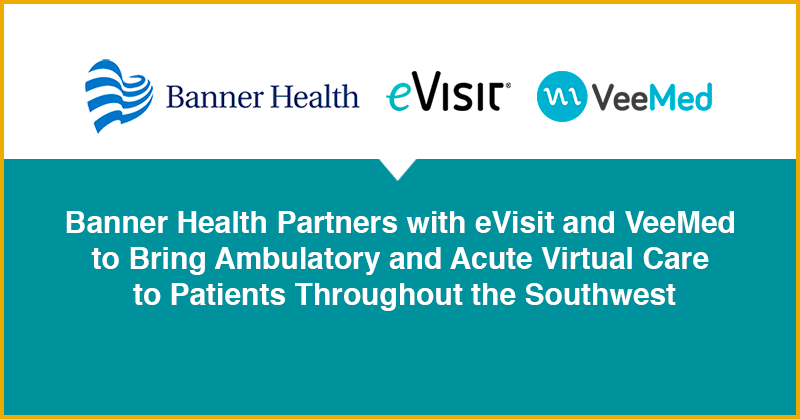 Banner Health Announces Virtual Care Partnership
Banner Health is one of the largest non-profit healthcare systems in the US with more than 1 million members, and it's the largest private employer in Arizona. Today Banner announced a five-year strategic partnership with eVisit and VeeMed to enable ambulatory and acute virtual care for its patients throughout the Southwest. Banner Health will provide virtual care services in Primary, Urgent, and Specialty Care, along with tele-behavioral health, tele-stroke, and more.
Virtual Care is What Patients Want
Patients want convenient, accessible healthcare available on their computers, phones and mobile devices, anytime. Virtual care is the ideal solution to meet today's patients' needs. "Virtual care is a critical component of our healthcare delivery strategy, giving patients the convenient, accessible healthcare they want," said Jim Roxburgh, CEO at Banner Telehealth Network.
Banner Health Chooses a Non-Competitive Solution
Many vendors in the virtual care market are actually healthcare providers themselves with direct-to-consumer offerings that compete for patients. Banner purposefully chose a solution that enables their network of providers to deliver virtual care. "The fact that these platforms are non-competitive to Banner, preserving our network integrity, made the decision easy," said Jim Roxburgh, CEO at Banner Telehealth Network.
Banner Found Partners, Not Just Vendors
"We're thrilled to partner with Banner Health, enabling them to deliver faster, more accessible ambulatory virtual care," said Bret Larsen, CEO of eVisit. "We look forward to seeing the success of this partnership for Banner and its patients."
VeeMed's CTO, Rahim Khatri commented, "We are very excited to work with Banner and eVisit to provide a custom solution for Banner's needs in telemedicine services, unlike cookie-cutter solutions found elsewhere. Ultimately, it is the community and patients who will benefit greatly from this partnership."
Miles Romney, CTO at eVisit summed the partnership with VeeMed best by saying, "VeeMed is a powerful product, and they are phenomenal partners. We're honored to work alongside them in offering the industry's most comprehensive, integrated telehealth solution."
Learn More About eVisit
eVisit simplifies healthcare delivery with its market leading virtual care platform. We enable healthcare organizations to deliver faster, more accessible virtual care using their own network of providers, regardless of specialty. eVisit works seamlessly across enterprise service lines and departments to improve outcomes, reduce costs, and boost revenue. eVisit helps more than 200 healthcare organizations, including the largest systems in the US, innovate and succeed in today's changing healthcare market.
Learn how virtual care can improve outcomes, reduce costs, and increase revenue. Get your free virtual care assessment today.