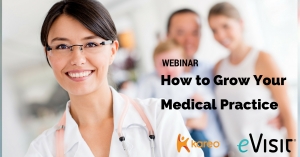 Looking for creative ways to expand your medical practice? Want to increase your practice revenue, but not sure you have the budget for a big marketing push?
This webinar is for you.
In our upcoming free webinar 3 Surefire Ways to Grow Your Medical Practice, practice management expert Lea Chatham of Kareo (a practice management and billing software company), will discuss three easy ways to maximize practice growth, fast. These are proven strategies for helping physicians and practice managers expand their medical practices, that also require minimal time and investment.
You'll learn how to:
Increase patient & provider referrals
Improve your online reputation and attract new patients
Offer the key services patients look for when selecting a new provider
Whether you're a physician practice owner trying to get a new practice off the ground, or a practice manager hunting for tips to improve your medical practice's health and reach, this webinar has the kind of actionable advice you need to make an impact.
Ready to give your practice a competitive edge and boost your bottom line? Click the button below to save your seat!
If you're not available for the date and time, don't worry. Sign up anyway and we'll send you the recording after the webinar air.