Dr. McCracken named a Top ER Doctor of Phoenix Once Again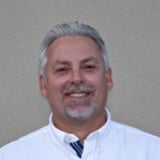 eVisit, a startup delivering telehealth solutions for physicians, is proud to announce that Cofounder and President Dr. Glen McCracken has been named a "Top Doctor of Phoenix" for the third time, by Phoenix Magazine. The Phoenix Magazine Top Doctor awards are given out annually to only a few local doctors in each of the 52 specialties, out of the total 10,854 eligible doctors in the Phoenix area. The winning doctors were selected through a competitive, anonymous survey of their peers.
"It's really validating to be recognized by my peers as a top doc in my specialty of Emergency Medicine," says Dr. Glen McCracken. "Creating eVisit and focusing on helping other physicians has been a passion of mine, and I hope this award will help increase eVisit's exposure and show others I'm as committed to providing high-quality care as I am about improving our healthcare system through telemedicine."
Dr. McCracken has over 20 years of experience as an ER physician and has served as President and CEO of Scottsdale Emergency Associates. In addition to practicing medicine, Dr. McCracken received an MBA from the University of Arizona and has worked as Chief Medical Officer at several medical startups. Most recently, he cofounded eVisit to help address the healthcare system's critical need to provide more accessible, urgent healthcare.
Under the leadership of Dr. Glen McCracken, eVisit is poised to be the only physician-first telemedicine provider; eVisit is a telehealth solution developed by physicians, for physicians.
About eVisit
eVisit is a patient engagement telehealth software platform for SMB healthcare providers. The software allows healthcare providers to connect with and treat their patients remotely. Unlike competitors, eVisit is the only software for providers designed to facilitate telemedicine reimbursement from third party payers.
eVisit is transforming the healthcare delivery model by giving providers tools to recapture patient visits from urgent care and emergency room facilities. Physicians optimize patient flow and boost practice revenue, and patients receive high-quality care while at work, home, or on the road, from the doctor that knows them best.
Questions? Contact Teresa Iafolla at tiafolla@evisit.com.