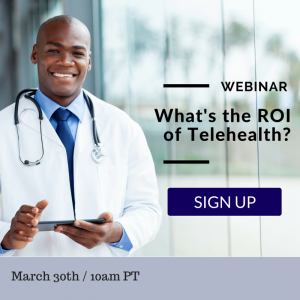 In a recent survey, 90% of healthcare execs said they're currently developing or implementing telehealth programs. With stats like that, it's undeniable that telehealth is a fast-trending topic in the medical field.
But if you're a healthcare provider, or a physician practice owner, you may be wondering – is telehealth worth it for my practice? How will telehealth actually help me generate revenue? Will it be worth the upfront costs?
In our upcoming eVisit webinar - What's the ROI of Telehealth? - we'll review why telehealth makes financial sense for many healthcare providers, across many different potential use cases.
You'll learn:
How telehealth affects revenue
How one practice got to an ROI in 30 days
How to calculate your own telehealth ROI
While every practice is different, telehealth brings a wide range of potential revenue-generating benefits to healthcare providers. Register now to see how telehealth could help your practice.
Can't make it to the webinar? Sign-up anyway and we'll send you the recording!
[button color="accent-color" hover_text_color_override="#fff" size="large" url="http://try.evisit.com/telehealth-good-investment-for-doctors/?utm_source=Blog&utm_medium=Post&utm_campaign=ROI%20webinar" text="Register Now" color_override=""]