Getting patients' consent is an important part of any telemedicine program. Not only is getting informed patient consent a recommended best practice by the American Telemedicine Association (ATA), it's actually a requirement in many states.
Avoid unnecessary cancellations due to COVID-19. Treat patients virtually with QuickStart within three days.
---
Since telemedicine is a new way of receiving care for many patients, it's important to let them know how it works. How does patient confidentiality and privacy work with virtual doctor visits? What kinds of technical equipment do they need for a virtual visit? What should they expect in terms of scheduling, canceling, and billing policies?
While it's up to you how much information you include when getting your patients' consent for a telemedicine visit, there are a few basic requirements you should know about.
Know your state and payer requirements.
Getting your patient's consent could be a legal requirement in your state, or a condition of getting paid, depending on the payer you're billing. To check what the requirements are in your state, check the Center for Connected Health Policy's state map. Simply click on your state and scroll down to the section labeled "Consent." Here you'll be able to see whether state law requires you to get patient consent, and if there are any corresponding requirements through the state Medicaid program.
Some states don't have any state requirements. Others require verbal consent. Still others require physicians to get written consent and store it in the patient's health record.
Informed patient consent best practices.
While getting a patient's consent for telemedicine visits may not be a requirement in your state, it's still a telemedicine best practice that we recommend putting in place.
So what kinds of information should you include on your consent form? The ATA suggests you should:
Inform patients of their rights when receiving telemedicine, including the right to stop or refuse treatment
Tell patients their own responsibilities when receiving telemedicine treatment
Have a formal complaint or grievance process to resolve any potential ethical concerns or issues that might come up as a result of telemedicine
Describe the potential benefits, constraints, and risks (like privacy and security) of telemedicine
Inform patients of what will happen in the case of technology or equipment failures during telemedicine sessions, and state a contingency plan
In addition, you may want to outline some of your basic telemedicine program policies around billing, scheduling, cancellation etc.
How to create your patient consent form.
If you're billing through Medicaid or a payer that already has a template patient consent form, you may want to consider using that form as your standard. But in most cases, it's up to you to decide what to include.
Review the points we've laid out from ATA and decide what is most important to include for your practice. You know your patient population better than anyone. Are there certain issues or policies around your telemedicine program that you need to communicate to your patients? Do your patients need a little extra help reviewing the technology requirements? Try and create a policy that's as clear and concise as possible, but still communicates the main points to your patients.
If you need a little help getting started, here are a couple examples you can look at.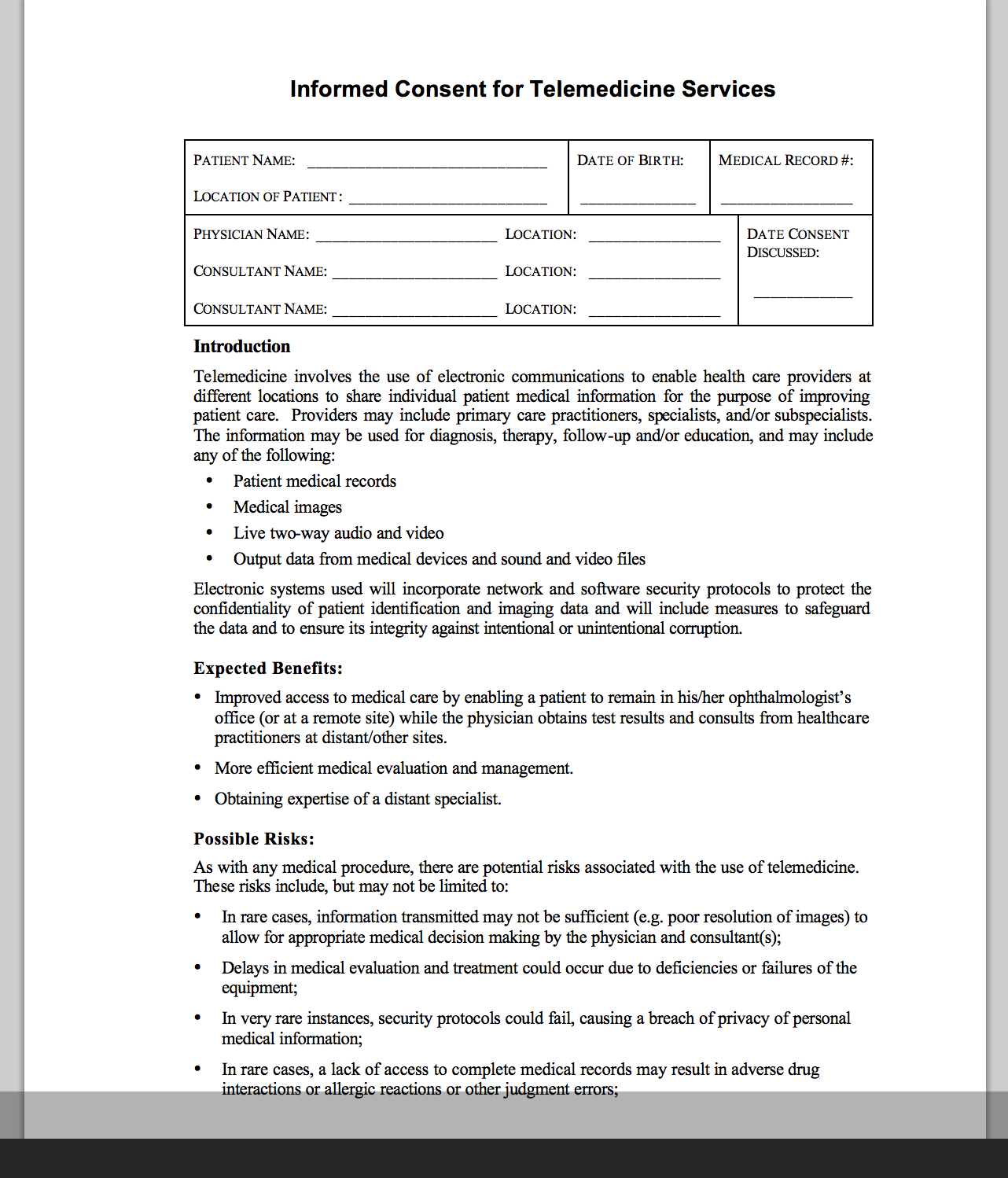 Build patient consent into your workflow.
Now that you have a patient consent form for your telemedicine program, decide how you'll build it into your workflow. Will you talk to patients about the option of telemedicine appointments during an in-office visit? If so, you may want to have the sign the form while they're there. You could also have patients mail in the form before their first visit.
If you'd prefer to do everything electronically, you could share the form electronically, and ask patients to send back a scan or photo of the signed copy for your records. If you are only getting verbal consent, share the form with your patients so that you can review the guidelines together, and then document their consent in their patient record.
There are many different ways to build this step into your telemedicine workflow. Think about what works best for your practice.
While getting informed patient consent may just seem like another requirement, we always recommend it as a telemedicine best practice. Even if it's not a legal requirement in your state, consider making it a part of your policy so that patients are on the same page when it comes to telemedicine.